Hamilton U.S. Bond
Yield Maximizer ETF
Canada's 1ˢᵗ Covered Call Bond ETF
HIGHLIGHTS
10%+ initial target yield*An estimate of the annualized yield an investor would receive if the most recent distribution remained unchanged for the next 12 months, stated as a percentage of the net asset value per unit on September 14, 2023; monthly distributions
Exposure to trusted U.S. treasuries
Unlike bonds, covered call premiums are generally taxed as capital gains
Covered call strategy actively managed by Nick Piquard, with over 25 years of experience specializing in options
Click here to view Nick discuss HBND on BNN Bloomberg
A GOOD FIT FOR INVESTORS WHO WANT
Higher monthly income combined with the strength and security of U.S. government bonds
Tax efficient distributions
CAD-Hedged exposure to long-term U.S. treasuries
Reduced volatility from options strategy
INVESTMENT OBJECTIVE
The investment objective of HBND is to deliver attractive monthly income, while providing exposure primarily to U.S. treasuries through a portfolio of bond exchange traded funds. To supplement distribution income earned on the exchange traded fund holdings, mitigate risk and reduce volatility, HBND will employ a covered call option writing program.
HBND does not use leverage.
TICKER

HBND

NAV

$15.72

1 DAY CHANGE

+$0.09

YIELD *

Current annualized yield, as at September 14, 2023

10%+

ASSETS

$8.8M
Initial Target Yield1
1An estimate of the annualized yield an investor would receive if the distribution remained unchanged for the next 12 months, stated as a percentage of the net asset value per unit on September 14, 2023.
Canada's 1ˢᵗ Covered Call Bond ETF2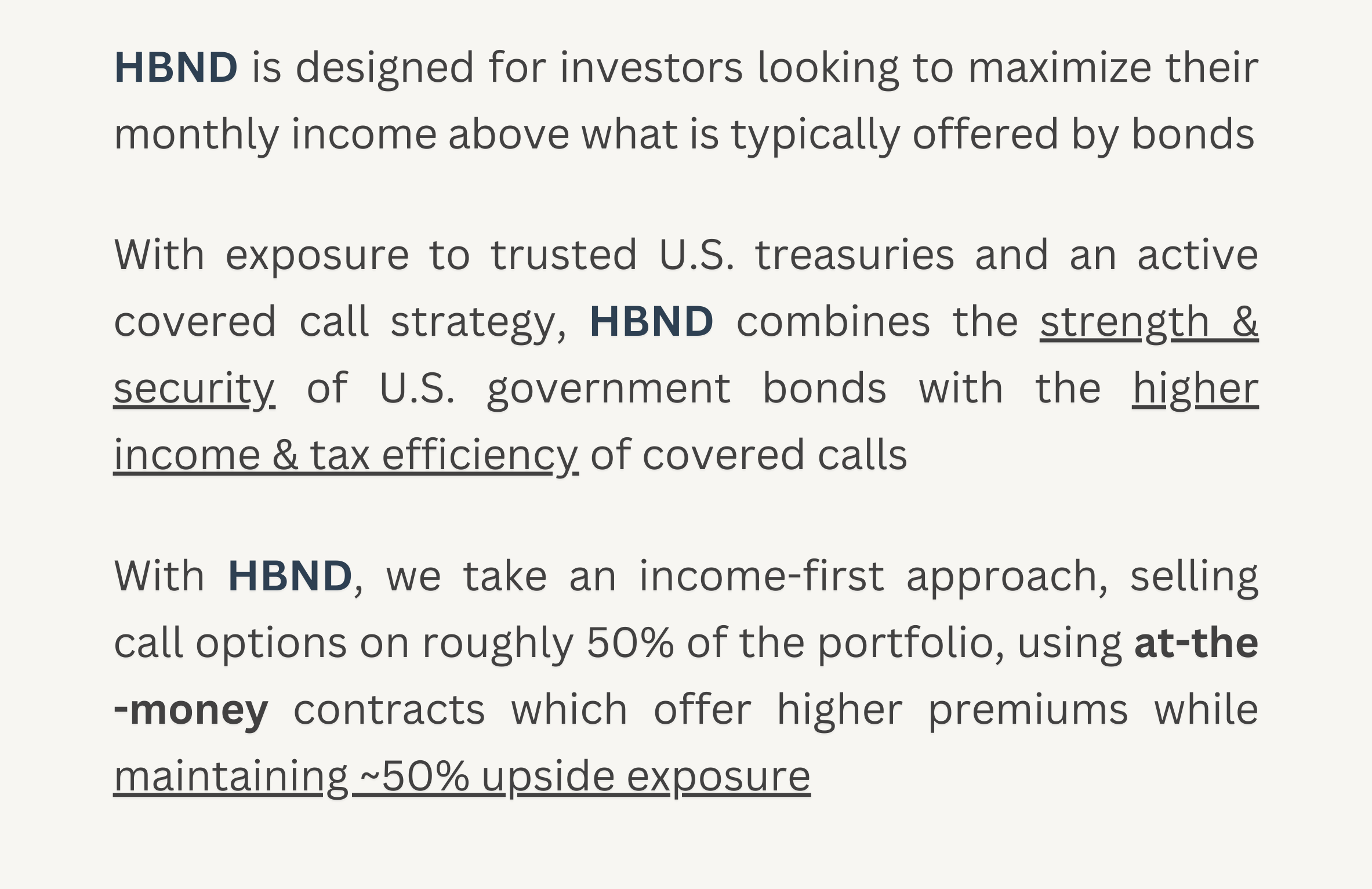 2Based on the universe of ETFs that trade on the Toronto Stock Exchange, as of September 14, 2023.
Overview
Distributions
Documents
█
Long-Term 80.0%
█
Medium-Term 10.0%
█
Short-Term 10.0%
| | | |
| --- | --- | --- |
| ticker | name | weight |
| TLT | iShares 20+ Year Treasury Bond ETF | 50.0% |
| VGLT | Vanguard Long-Term Treasury ETF | 30.0% |
| VGIT | Vanguard Intermediate-Term Treasury ETF | 10.0% |
| SCHO | Schwab Short-Term U.S. Treasury ETF | 5.0% |
| BIL | SPDR Bloomberg 1-3 Month T-Bill ETF | 5.0% |
Ticker

HBND

Exchange
Toronto Stock Exchange (TSX)
CUSIP
407917103
Inception Date
September 14, 2023
Investment Style
Fixed Income, Covered Call
Assets

$8.8M CAD

*

Initial Target Yield
10%+*
Distributions
Monthly
Maturity
20.7*
Duration
13.7*
Currency Hedging
100% hedged
Management Fee
0.45%
Risk Rating
Low to Medium
Auditor
KPMG LLP

Legal Entity Identifier
254900GVE3JWA7DQOB42
| Ex-Dividend Date | Paid | Frequency | Amount |
| --- | --- | --- | --- |
| 2023-10-30 (Estimated) | 2023-11-07 (Estimated) | Monthly | $0.135 (Estimated) |