Hamilton Canadian
Financials Yield
Maximizer ETF
Get More from Canadian Financials

HIGHLIGHTS
15.50% yield*An estimate of the annualized yield an investor would receive if the most recent distribution remained unchanged for the next 12 months, stated as a percentage of the price per unit on August 31, 2023; monthly distributions
Diversified exposure to Canada's 10 largest financials with approximately 75% exposure to the 'big-6' banks
Dynamic covered call strategy to enhance monthly income and reduce volatility
Options strategy actively managed by Nick Piquard, with over 25 years of experience specializing in options
A GOOD FIT FOR INVESTORS WHO WANT
Higher monthly income
Blue-chip Canadian banks/financials exposure
Tax efficient distributions
Reduced volatility from options strategy
FUND OBJECTIVE
HMAX is designed for attractive monthly income, while providing exposure to a market cap-weighted portfolio of Canadian financial services stocks. To reduce volatility and augment dividend income, HMAX will employ an active covered call strategy.
HMAX does not use leverage.
TICKER

HMAX

NAV

$13.84

1 DAY CHANGE

-$0.03

YIELD *

Current annualized yield, as at August 31, 2023

15.50%

ASSETS

$529.7M
High Yield1
1An estimate of the annualized yield an investor would receive if the most recent distribution remained unchanged for the next 12 months, stated as a percentage of the net asset value per unit on August 31, 2023.
What Makes HMAX Different?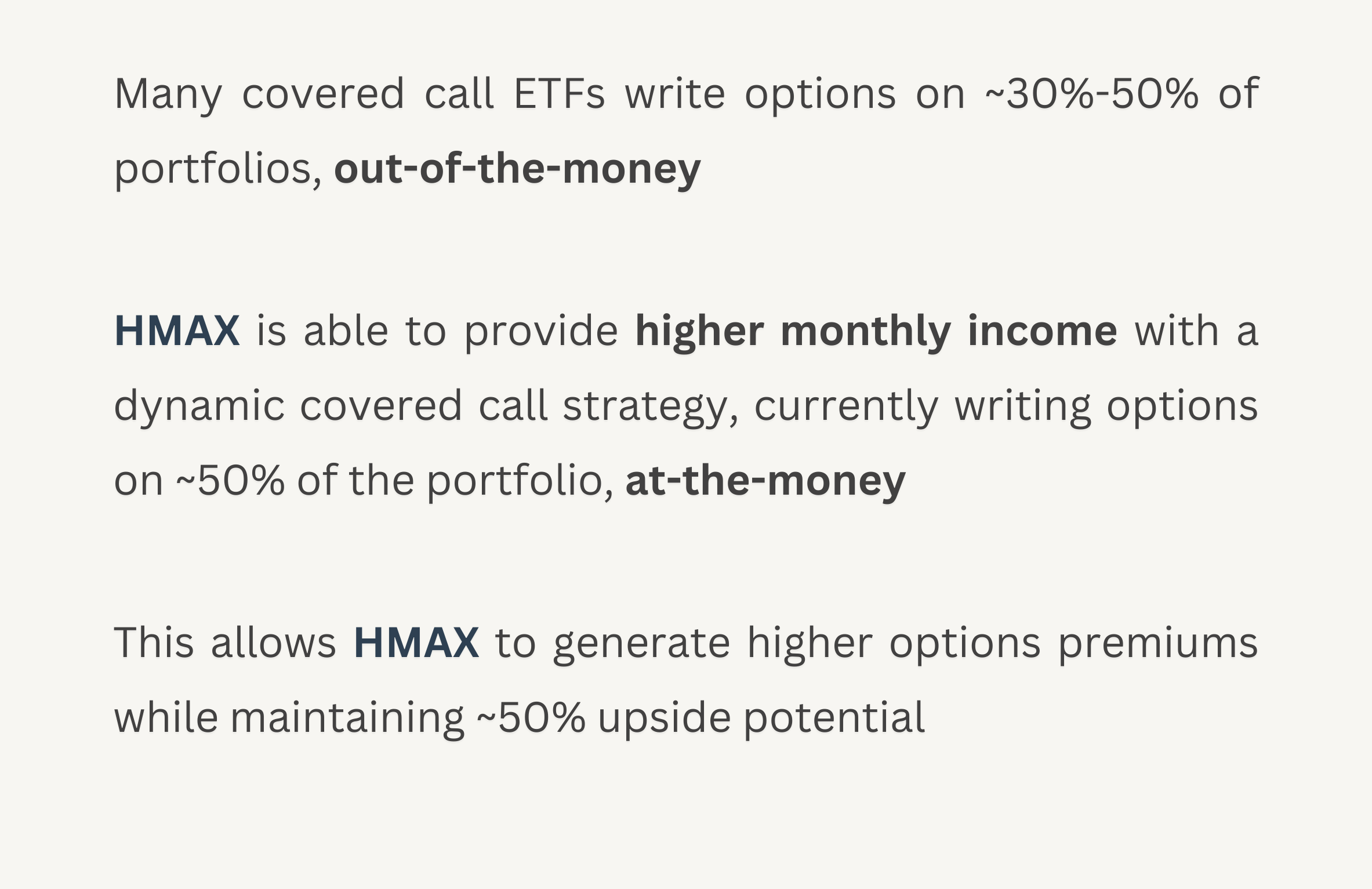 Overview
Distributions
Documents
█
Asset Management 10.1%
█
Banks 74.6%
█
Insurance 15.7%
| | | |
| --- | --- | --- |
| ticker | name | weight |
| RY | Royal Bank of Canada | 22.5% |
| TD | Toronto-Dominion Bank | 20.1% |
| BMO | Bank of Montreal | 11.0% |
| BNS | Bank of Nova Scotia | 10.2% |
| BN | Brookfield Corp | 10.1% |
| CM | Canadian Imperial Bank of Commerce | 6.5% |
| MFC | Manulife Financial | 6.2% |
| SLF | Sun Life Financial | 5.1% |
| IFC | Intact Financial | 4.5% |
| NA | National Bank of Canada | 4.2% |
Ticker

HMAX

Exchange
Toronto Stock Exchange (TSX)
CUSIP
40704M106
Inception Date
January 20, 2023
Investment Style
Covered Call
Assets

$529.7M CAD

*

Current Annualized Yield
15.50%*
Distributions
Monthly
Rebalancing
Semi-Annual
Management Fee
0.65%
Risk Rating
Medium
Auditor
KPMG LLP

Legal Entity Identifier
549300MRZG8IKUDNCP20
| Ex-Dividend Date | Paid | Frequency | Amount |
| --- | --- | --- | --- |
| 2023-09-28 | 2023-10-06 | Monthly | $0.1775 |
| 2023-08-30 | 2023-09-08 | Monthly | $0.180 |
| 2023-07-28 | 2023-08-08 | Monthly | $0.180 |
| 2023-06-29 | 2023-07-10 | Monthly | $0.180 |
| 2023-05-30 | 2023-06-07 | Monthly | $0.180 |
| 2023-04-27 | 2023-05-05 | Monthly | $0.180 |
| 2023-03-30 | 2023-04-13 | Monthly | $0.185 |
| 2023-02-27 | 2023-03-10 | Monthly | $0.185 |