January 25, 2017
The Hamilton Capital Global Bank ETF (HBG) recently finished its first full year, increasing in value by ~28% (including dividends). Importantly, the ETF outperformed its benchmark, the KBW Global Bank Index (CAD) by almost 12%[1]. Not only did HBG generate significant outperformance relative to the global banks, it also managed to accomplish this while experiencing comparatively lower drawdowns.
Attractive yield
from
a
world
class
banking
sector.
HBA
Dividends
from
Down
Under.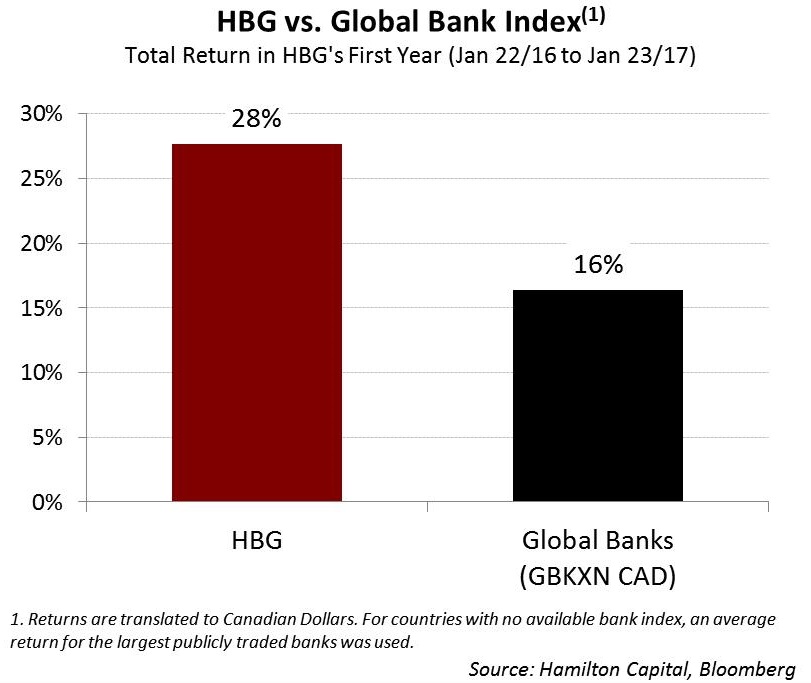 Currency hedging for HBG is at the manager's discretion, and during the ETF's first year, we adopted a conservative stance. Although conventional wisdom is that the CAD has been weaker against the USD (given its recent strength), in fact, since HBG was launched, the CAD gained ~7% versus the USD and the EUR, and gained a substantial 21% versus the GBP. Not only did hedging contribute positively to the ETF's returns, it also reduced its volatility (we review our hedging stance regularly).
HBG Significantly Outperforms Banks Globally
HBG outperformed banks in ~80% (i.e., 30 of 37) countries/regions. In those few countries where HBG did not outperform, the difference could primarily be attributed to unforeseen macro factors, including: (i) a recovery in commodity prices (e.g., Canada, Norway), (ii) abrupt forecast changes in fiscal/monetary policy (U.S., in particular, with the market pricing in sizeable corporate tax reductions post-election) and (iii) geopolitical changes in certain emerging markets (shown in dark grey below).
HBG Experiences Lower Drawdowns versus Major Bank Indices and Many Large-Cap Banks
In addition to HBG's material outperformance, the ETF experienced lower drawdowns than virtually all major country bank indices (as well as lower than many of the largest and best known banks). In fact, the maximum drawdown using daily returns was 11%, significantly lower than most of the largest European and U.S. banks, and nearly equivalent to that of Royal Bank. This performance was inline with one of the key aspirations for the ETF, i.e., to achieve a portfolio beta similar to the North American banks.
[1] KBW Global Bank Index, or GBKXN Index, translated into CAD
Note: Comments, charts and opinions offered in this commentary are produced by Hamilton Capital and are for information purposes only. They should not be considered as advice to purchase or to sell mentioned securities. Any information offered is believed to be accurate, but is not guaranteed.