On February 7th, 2017, we will be launching the Hamilton Capital Global Financials Yield ETF (HFY). It is the aspiration of HFY to generate "REIT-like yields, with positive rate sensitivity".  Therefore, we anticipate that HFY would have close to zero exposure to the four mega-cap banks primarily while their yields are very low. There are nearly 400 global financials with yields in excess of 5%, and the average yield of these four banks is less than 2%, which is too low to merit inclusion in the fund (although we expect these yields to rise in 2017). As we have written in the past, given their low earnings growth profile, we do not own any in the Hamilton Capital Global Bank ETF (HBG).
From time to time, HFY and HBG will hold certain positions with low(er) yields, but only if we anticipate these firms will generate high(er) EPS growth. This is simply not the case for the four U.S. mega-cap banks.
In Q4-16, these banks reported another mediocre quarter, with all four posting negative sequential "core", or adjusted EPS growth: BAC (down ~11%), C (down ~8%), WFC (down ~6%) and JPM (down ~1%). Not only did all four report negative sequential earnings growth, but the quality was also relatively low, as it was supported by tax benefits/lower tax rates (JPM, BAC, WFC), CVA adjustments (JPM), strong trading/FICC (all, except WFC), and reserve releases (JPM, BAC). WFC had arguably the worst quarter of the four, with net trading losses, weak mortgage banking revenues (down 15% Y/Y and Q/Q), and elevated expenses.
In the past four years, there have definitely been quarters where year-over-year earnings growth has been "good", primarily because the prior year quarter was weak. However, over the past four years, it seems to have been one step forward, followed by one step back. Only JPM appears to be on a positive trajectory (at least since Q3-2015), but as the charts show below, all four are safely into their fourth year of very low-to-zero EPS growth.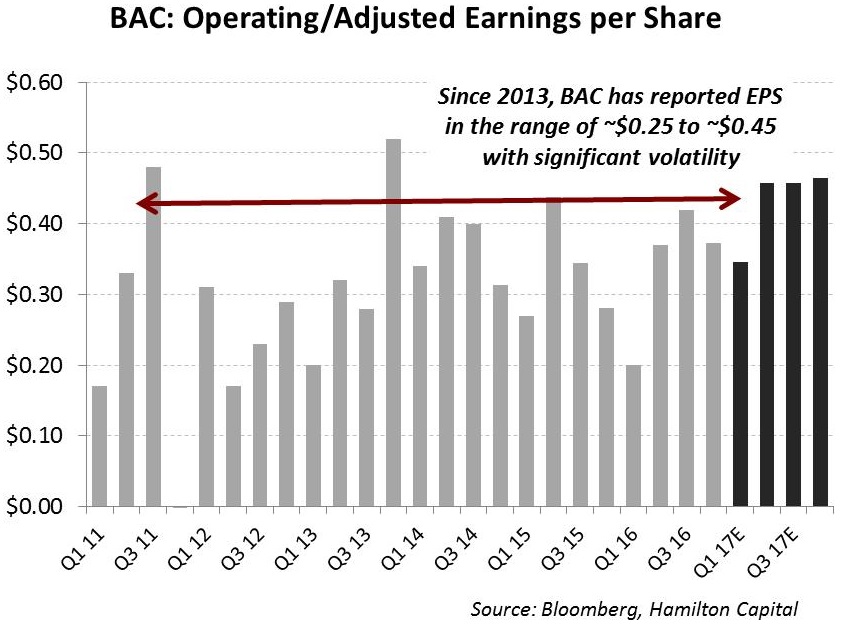 Note: Comments, charts and opinions offered in this commentary are produced by Hamilton Capital and are for information purposes only. They should not be considered as advice to purchase or to sell mentioned securities. Any information offered is believed to be accurate, but is not guaranteed.